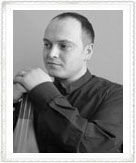 Prelector Uğur Erdem Ürer
urer@aku.edu.tr
Vice principal of Turkish Art Music Department
Education
He was born in Sakarya in 1975. He completed his primary and secondary education in Ünye which is his hometown. He met with Classical Turkish Music in Ünye Musiki Association during his high school years (1993). He was accepted in the first place to Selçuk University State Conservatory in 1995.
Working Life
He worked as kemancha virtuoso in Konya metropolitan municipality Turkish Sufi Music Association during 1999-2000. He was assigned as classical kemencha lecturer to Afyon Kocatepe University State Conservatory in 2001. He participated various concerts and firmament ceremonies with AKU Turkish Music Assembly in land and abroad (USA, England, South Korea, Umman, Egypt, Algeria, Slovenia etc.). He is a graduate from postgraduate programme and is still carrying on his studies as a Classical Kemencha lecturer in Afyon Kocatepe University State Conservatory. He performed kemancha concerto composed by Oğuzhan Balcı in 2014. In 2017, he carried out directorship of CD and Book project titled "Compositions and Poems from Fatih Sultan Mehmet Council"
Lessons Conducted
Classical Kemancha
Publications
Various Cassette, CD projects
Concerts
He participated in national and international concerts with his instrument.
21 December 2015, Monday
2886 kez görüntülendi