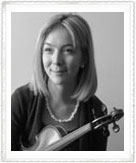 Asst. Prof. Sevgi Taş
sevgiatli@hotmail.com
Head of Strings Art Major
Education
She was born in Eskişehir. She completed her primary and secondary education in Eskişehir. In 1996, she graduated from Eskişehir Anatolian Fine Arts High School. She was accepted into Bilkent University Music and Stage Arts Faculty Violin Art Major in the same year. She started post graduate education in Gazi University Education Science Institute Music Teaching Science Major in 2004. She was accepted to Music Teaching Doctorate Programme at the same institution in 2007.
Working Life
She started working as a lecturer in Afyon Kocatepe University State Conservatory Music Department in 2005. She carries out her studies as a Vice Principal of Music Department since 2006.
Lessons Conducted
Instrument, Methods and Techniques in Instrument Education, Instrument Pedagogy.
Publications
Proclamations in scientific assemblies on music education and articles in referred journals were published.
Concerts
She participated in national and international violin, chamber music and orchestra concerts as a performer.
21 December 2015, Monday
4712 kez görüntülendi