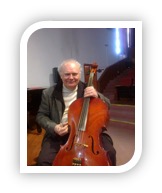 Prelector Jozsef Györffy
jozefcellist@yahoo.com
Education
He was born in Hungary. After he finished his education in Budapest Primary Music School, he continued his secondary education in Bela Bartok Music High School. He graduated from Budapest Ferenc Liszt Music Academy as an educator and orchestra musician in 1979.
Working Life
He worked as a cellist in Budapest Hungarian Symphony Orchestra between 1979-1981. At the same time, he was cellist in Corelli Chamber Music Orchestra and Alba Regia Symphony Orchestra. He worked in Parma Orchestra and Symphonic Orchestra in Italy between 1981-1983. He returned to Hungary in 1984, he carried on his orchestra studies and worked as cellist in L. V
Beethoven Art and Music Centre.
He is in Turkey since 1987. He worked in Hacettepe University State Conservatory in the first years. Since 1990, he carried out "Cello and Chamber Music" lessons in Bilkent University Music and Stage Arts Faculty and carried on his studies in Bilkent Symphonic Orchestra as a founder member in 1993.
He have been working in Afyon Kocatepe University State Conservatory as a Prelector since 2010
Lessons Conducted
Cello, Chamber Music, Orchestra
Publications
There are many CD records that he recorded during the process he was in Hungary, Italy and Turkey.
Concerts
He participated in national and international orchestra and chamber music concerts.
24 February 2020, Monday
2764 kez görüntülendi