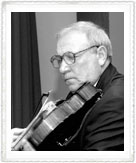 Prelector Lev Kirillov
lev.kirillov1947@gmail.con
Education
He was born in Marı, city of Turkmenistan in 1947. After he finished Aşkabad Music Academy, he was accepted to Donu Music-Pedagogic University in Rostov and graduated in 1972. After his graduation, he started working in the same school as a concert conductor for 3 years.
Working Life
He finished Assistant-internship and then doctorate in Leningrad State Conservatory between 1976-1979. Then he worked in Rostov Conservatory as a Viola teacher. Again, during these years, he was orchestra conductor, chamber music conductor and Russia St. Petersburg Symphonic Orchestra conductor. He came to Turkey in 2012 and started working in Afyon Kocatepe University State Conservatory Strings Art Major Viola educator.
Lessons Conducted
Viola, Chamber Music
Concerts
He participated in national and international orchestra and chamber music concerts.
21 December 2015, Monday
1416 kez görüntülendi