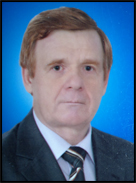 Prelector Anatoly Bodnar
Education
He was born in Ukraine in 1951. After he finished Vinnitsa Music Academy, he carried on his education in Odessa State Conservatory. He was accepted for postgraduate education at the same university. After he completed his postgraduate education he worked as soloist and group chief in Odessa Philharmonic Orchestra and Nikolayev Philharmonic Orchestra. In 1982 in a competition made in Soviet Union he received "The best Soloist" title.
Working Life
He worked as an assistant professor during 1996-2002 in Nikolayev State Music Academy and Culture University. He came to Turkey in 2002 and started working as a Double Bass educator in Afyon Kocatepe University State Conservatory Strings Art Major.
Lessons Conducted
Double Bass, Chamber Music, Transcription
Concerts
He participated in national and international orchestra and chamber music concerts.
21 December 2015, Monday
1290 kez görüntülendi